I had a surprise day at home with the little one today because our babysitter has two sick kids, so I'm enjoying extra time with my little sweetie and getting the house clean and ready for us to go out of town. While he's taking a nap, I thought I would join Fabulous in First for this fun little linky!
1. When do you decorate?
We usually decorate right after Halloween (yes, we're "those" people). This year was a little later, but we still managed to have everything up but our tree (we get a real one) before the week of Thanksgiving!
2. Elf or no elf?
No elf, although I kind of want one. Not to push Keagan to be good (we will do that on our own), but I think I'd have a ton of fun setting it up every night. Steven thinks it would give him a ton of headaches and is adamantly against it. Oh well! I will live vicariously through your pictures!
3. Christmas Cookies or No Baking for You?
We LOVE making Christmas Cookies! I don't know when we'll get around to it this year, but I hope we still do it! Keagan got to help for the first time last year, and it was so much fun.
4. Favorite Holiday Tradition?
This is tough because I love everything about the Christmas season, but I guess my favorite may be Christmas Eve. We usually attend a church service and then come home to eat a nice dinner. Before bed, we read "The Irish Night Before Christmas" and each open one gift (usually pajamas). Then we put Keagan to bed while getting everything ready for Christmas morning!
5. Favorite Christmas Movie?
I love Christmas movies, so it's a hard choice. I would have to say Elf is my favorite, but A Charlie Brown Christmas is a close second. I just love when Linus lays out the true meaning of Christmas!
6. Snow or No Snow?
If it has to be cold, it might as well snow.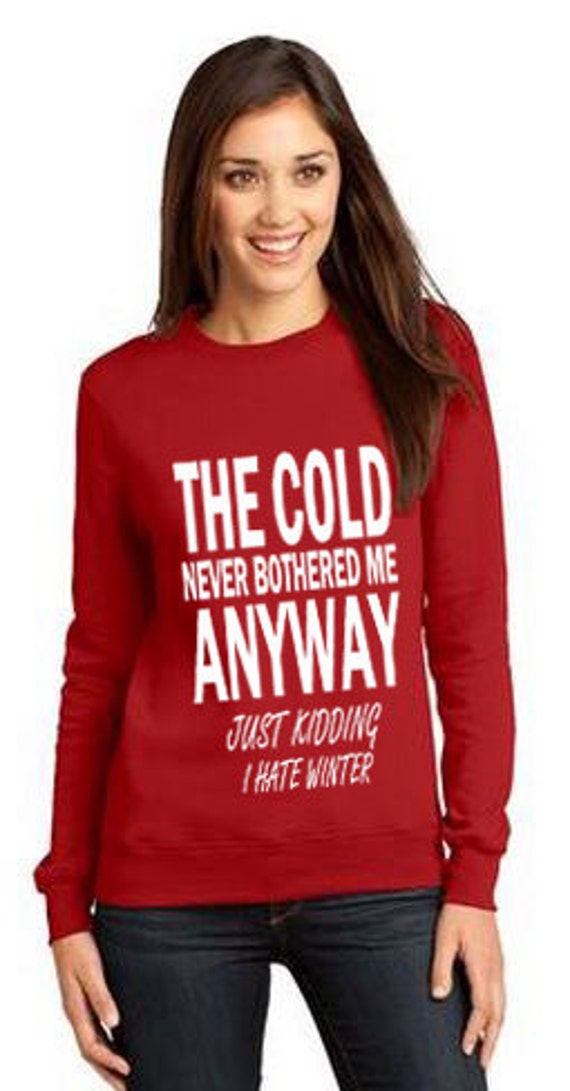 I saw this shirt on Etsy, and it's totally me. I actually can only handle snow for a little while still. Last year, it was SO miserably cold and yucky every time we got snow, and I was completely over it.
7. Favorite Christmas Song?
I have to agree with Michelle. "Mary Did You Know" has been a favorite of mine for years. I have been teaching Keagan some Christmas songs this year, though, and Frosty is his favorite!
8. Favorite Gifts to Give and Get?
Usually I love to get clothes, but it's a little more difficult this year with me being pregnant. I've found some great oversized sweaters that I could actually wear next year. When it comes to giving, I love to find unique or special gifts. This year, I scored a set of Ghostbusters that I was able to split between Keagan and Steven (he's been missing all but Winston for his set, and Keagan always wants to play with his). It's okay. Steven already knows!