This is my second year participating in this linky, and it's always fun to reflect and join!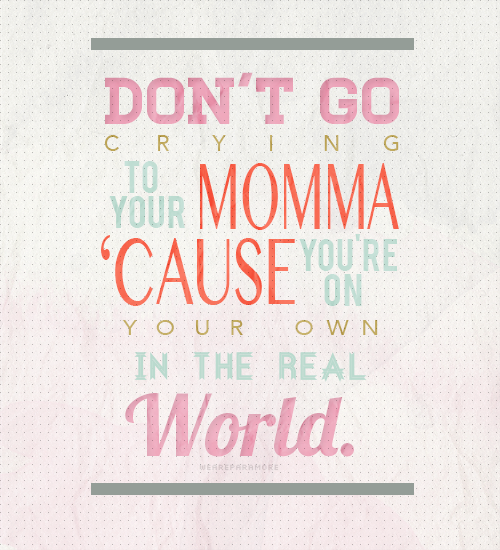 Haha, I love Paramore! And I get so tired of people whining and complaining (students and adults). This song was just great, and I actually made my own printable (not this one) to stick in my classroom. Yes. Really. So far no one's cried about it...
I embraced the leggings this year, but my favorite has become chunky sweaters! Let's be honest. Part of that has to do with the fact that I'm preggo and don't want to buy many maternity clothes yet. But these sweaters are so comfy AND I can wear them again next year when I'm still working off some baby fat!
This one is easy! I've been a Veronica Mars fan for years and was literally distraught when they cancelled the show after only three seasons. Fortunately for me, Kristen Bell and Rob Thomas (director, not singer) were as heartbroken as I was and never gave up hope to continue. They started a kickstarter campaign (which I DID contribute to) to make a movie that would finally give the marshmallows (fans) some closure, and maybe open up new channels for the show to kind of continue. I LOVED it! My husband and I actually drove all the way to DC for the closest theater showing it just to see it, and then we bought the DVD as soon as it came out. Actually, I pre-ordered it on Amazon. I'm a little obsessed!
We cancelled cable, but we finally broke down and got a Roku AND a subscription to Netflix to go along with Amazon Prime. I'm torn between two favorites for the year, and I'm left hanging on both while we wait for the rest of the episodes to post.
I started Downton Abbey at the beginning of the year and immediately was hooked! I've been a Jane Austen fan for years, and this kind of resembles that lifestyle. The hubs won't watch with me, but I spent every Sunday afternoon nap for quite a while catching up and was very sad when I finally finished season four back in the summer. Oh well, now I can watch it live starting Sunday!!
The hubs and I tried out White Collar together, and we're both crazy about it! Neal is gorgeous, and the storyline is just so fascinating. Bonus: Steven has started dressing even nicer trying to mimic Neal's wardrobe. Not complaining!
Well, my favorite from last year closed down, which I was very disappointed about. HOWEVER, Richmond has quickly become a restaurant hot-spot, and Steven and I have discovered quite a few great ones!
Hill Cafe is just one of many, but it's a great affordable option with lots of good choices. We've actually been twice to eat this year (we're still trying a long list of other places), and it's totally worth it!
I had my very first Pinterest party this year, and it was a lot of fun! We made citronella candles. They were pretty easy, and we had a great time hanging out and eating yummy Pinterest-inspired foods.
After this one, we had one more in the fall to paint pumpkins, which was also lots of fun. We need to schedule another one, though!
I got a new camera for Christmas, and it takes such great pictures! It will be perfect for when the new baby arrives, and I could already see a big difference in the quality once I switched to it last week!
I'll be honest. As much as I love Pinterest, it has kind of taken a backseat this year. I just don't have time for it. I did find this one, however.
For Keagan's 3rd birthday, we did a police theme and ended up buying doughnuts from THE BEST local doughnut shop (Country Style Doughnuts). We still had cupcakes, but the doughnuts were a hit!
I'm cheating on this one because they all go together, but my
Robust Vocabulary book study
was something I was very proud of over the summer. The book was so informative to me, and I still want to create and share some resources that relate to it. Once I finally don't feel so exhausted from teaching, being mommy, and being preggo. So maybe next year?
I reached my largest month of sales yet in November, and I had my largest day by far during the Cyber Monday sale. You guys have been amazing supporting me, and it really helped this Christmas!
Even though I'm not in it, I just LOVE this one! We took Keagan to see the Christmas lights downtown, and my sister-in-law caught this one. It's so sweet!
There were lots of great memories, but the best would probably have to be when we found out we were expecting again. Of course, I was planning on it, but I had started to worry that it would take longer this time and I would end up being due in September. Teacher's nightmare! But God was gracious and let me have my way. We can't wait to meet our new little gem in early June (and I'm dying to know girl or boy - 3 more weeks!), and we have a lot of decluttering to prepare!
When I was pregnant with Keagan, I ate everything I wanted and barely lifted a finger. And it showed by the end. I'm very small, but I gained 50 pounds and really had to work hard to get back to a place where I was comfortable. With this pregnancy, I'm trying to stay fit and go to the gym when I can (at least 400 minutes each month, which is part of a work incentive). So far, I've only gained 8 pounds and am hopeful that I will continue on the right track!
NEW
With a new little Dalton greeting us this summer and every new step Keagan takes as he continues to grow, I'm loving every minute of being a mommy right now! I'm so excited for 2015 and everything that will take place!